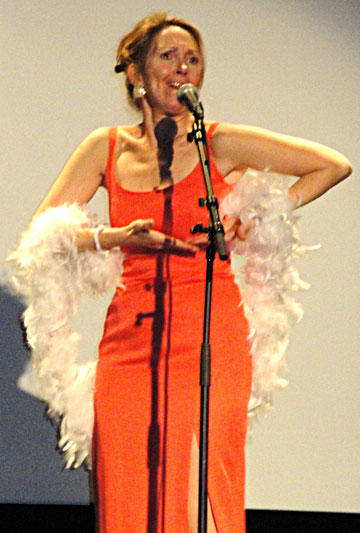 Ivy's performance of "My Kind of Test–A Mammogram"
Photos by Regina Larkin


For years I contributed lyrics to The Thalia Follies Cabaret at Symphony Space. Each show was a team effort, led by Isaiah Sheffer and Martin Sage, that began with a brainstorming session at the Key West Diner. I would order my chicken Caesar (dressing on the side) and plead with the waiter to make sure the chicken was cooked. There were a dozen of us. The table was filled with burgers, fries, coffee cups, and bowls of matzoh ball soup. We passed ketchup, slurped sodas, and talked with food in our mouths. This in itself would have made a good show, but Woody Allen had already done it.
My first Follies entry was for the Real Estate show. Having moved from the Upper West Side to the Upper Upper West Side, I wrote a lyric about my life up north called, "Riverdale." I sang it to the tune of "Babyface," composed by Harry Akst in 1926. Here's a sample:
RIVERDALE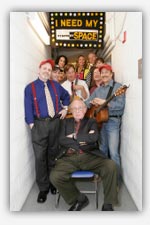 lyrics ©Ivy Austin
Riverdale.......I moved my family to
Riverdale.......A big anomaly
I'll never say, the rent I pay
Or everyone alive 'll
Wanna live in Spuyten Duyvil
Riverdale.......The smell of mothballs
and a plastic covered couch
Got me some ankle socks, I'm going Orthodox!
'Cause I live in Riverdale.
Have you ever wondered what it would be like to rip off your clothes and walk into a meat freezer where you come face to face with a stranger in a lab coat who places your breasts into a vise and cranks it so tightly that they suddenly resemble two slabs of ham?
Click here to view MY KIND OF TEST–A MAMMOGRAM on YouTube
lyrics ©Ivy Austin
These are desperate times. We all need money, and a woman's gotta do what a woman's gotta do. To make ends meet, I have been downsizing--selling off the car, the house, and am currently taking bids on my husband. Thank you Marvin Hamlisch for your song, "What I Did for Love." Your music made it so easy for me to tell my personal story in, "What I Did for Cash."
Click here to view WHAT I DID FOR CASH on YouTube
lyrics ©Ivy Austin
When we did the Funny Money show, the story of Bernie Madoff could not be ignored. The audience needed to know how a Ponzi scheme worked. I had some basic knowledge of the financial world, and knew that the scheme had been crafted long ago in Italy by Carlo Ponzi. Here I am, on a day pass from the Bedford Hills Correctional Facility, explaining the system using the Italian classic, "Tarantella Napoletana."
Click here to view THE PONZI TARANTELLA on YouTube
lyrics ©Ivy Austin
They say to write what you know. One thing I know for sure is that our healthcare system stinks. When our benefits ended and we wound up on COBRA, our family lived in healthcare hell. A person could die waiting for help. I thank Johnny Mercer for composing "Skylark," which inspired me to write "COBRA." Due to multiple medical conditions at the time of my performance, I omitted a key word that may help you figure out what this federal program actually does. COBRA stands for: Consolidated Omnibus Budget Reconciliation Act. I hope that clears things up!
Click here to view COBRA on YouTube
lyrics ©Ivy Austin
Remember when Bristol Palin got pregnant with Levi Johnston's love child during Sarah's campaign? The song, "(You're) Having My Baby" started playing on a loop in my head, and I could not resist temptation. Lyrics to "Having Our Baby," were born. Here are Bristol (yours truly) and Levi (Gregory Jones) telling their unique story with the help of Paul Anka's timeless music.
Click here to view HAVING OUR BABY on YouTube
lyrics ©Ivy Austin
Below you will find descriptions of other songs I have written for the Thalia Follies:
I Did it Sideways:
The voting booth is now history. Oh, how I long to flip those keys and grasp that stick. It was so satisfying. The lever's gone, yet I dream on, of pulling it Sideways.
(Everything's Coming Up) Moses
An upwardly mobile woman is determined to give her son the biggest Bar Mitzvah ever; a MEGA-mitzvah. Obama and the Pope are attending, but the Messiah's running late.
(I'm) Sexting:
A middle aged divorcee discovers the thrill of sexting. Accidently tapping into a sleazy dating site, she sends a compromising photo to a guy who turns out to be her Uncle Sol.

Ballet at Three:
How to prepare your eight-year-old for getting into Harvard. Tales of an over-scheduled child told by an insanely neurotic Manhattan mother.
Virtual Break-up Blues:
A jilted woman virtually stalks her ex-boyfriend from Facebook to Farmville, to Craigslist to PayPal. That piggy better look out, 'cause this gal is one Angry Bird.
High Atop the Bell Curve:
Being intelligent is overrated. Forget Standard Deviations and Tiger Moms. Let's celebrate mediocrity and enjoy life! Hey Ralphie.....pass me a beer!
I Can't Take it Anymore:
24/7 media coverage has turned this election into, "A circus full of elephants and asses, expelling endless bull and noxious gases." Help, I'm gagging!!!
2010 is the Year to Pull the Plug:
If you stand to inherit the estate of a rich old uncle, you may want to help him go by Dec. 31, 2010--while dying is still tax-free.