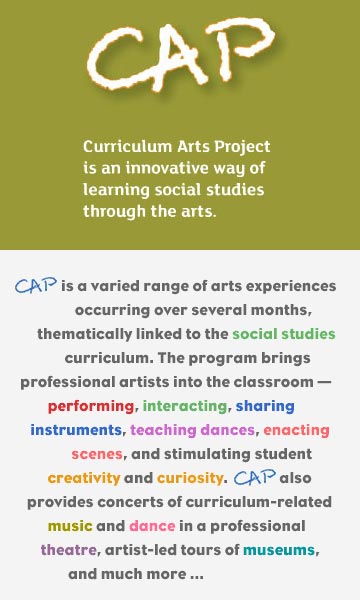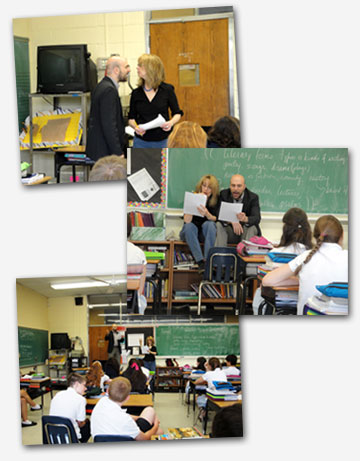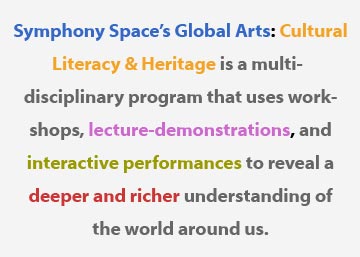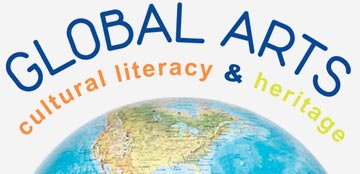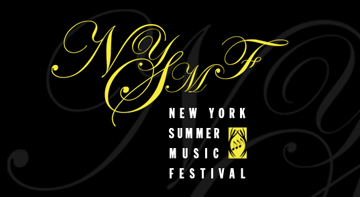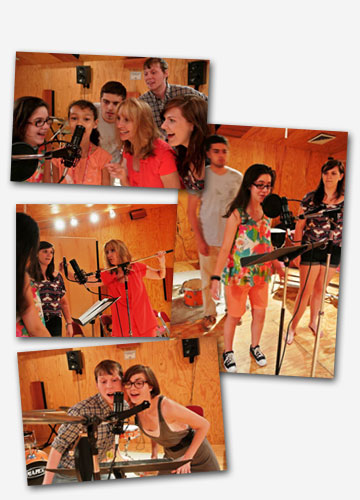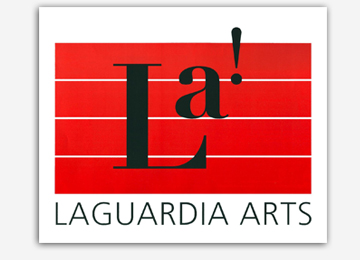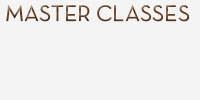 Ivy Austin joins the roster of dedicated teaching artists at
Symphony Space and participates in the CAP and Global Arts
Programs.

CAP gives thousands of students insight into the social studies curriculum through interaction with the arts and artists in the classroom, at museums, and at Peter Norton Symphony Space.
For students, CAP offers immediate contact with the arts and artists, connections

between the arts and the culture(s) under study, hands-on involvement with authentic, traditional works of music, dance, drama and art, and opportunities to create original works of music, drama, and art.

CAP unites students and teachers with specially trained Teaching Artists assembled from among outstanding professionals in New York City who share their knowledge and artistry in classroom lessons tailored to the culture being studied. In addition to their professional arts careers, all Teaching Artists have extensive teaching experience.
As part of CAP's visual arts component, students visit the Metropolitan Museum of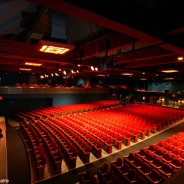 Art, the Brooklyn Museum of Art, the Museum of Natural History, the National Museum of the American Indian and other fine museums and historic houses throughout New York City.
For the culminating event of each curriculum program, CAP brings students and teachers to thrilling concerts of curriculum-related music and dance at Peter Norton Symphony Space, a professional performing arts center known for the high quality of its cultural events.
GLOBAL ARTS CULTURAL LITERACY & HERITAGE PROGRAMS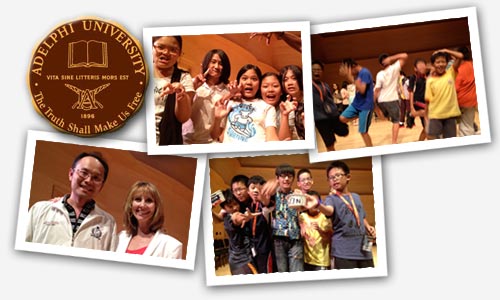 Ivy Austin with Taiwanese exchange students in a Global Arts workshop at Adelphi University.
NEW YORK SUMMER MUSIC FESTIVAL
The New York Summer Music Festival is a four-week summer program that
challenges every one of its students to achieve their highest levels of
musicianship. NYSMF distinguishes itself from other "band camps" though
its philosophy of top-level instruction & performance for the serious
young musician, combined with all the fun and friendship of a great
summer camp. NYSMF's Visiting Artist Program provides rare, thrilling
opportunities for students to interact with professional musicians of
international acclaim. Visiting artists present master classes, workshops,
and a limited number of private lessons (for an additional fee) each week
in a friendly, casual, and professional environment.

HEAD OF VOCAL FACULTY
Private and Group Instruction
Vocal Technique, Musical Theatre Solo Performance, Song Styling, and Commercial/Voiceover

VOCAL FACULTY
Private and Group Instruction
Vocal Technique, Musical Theatre Solo Performance, Song Styling,
and Commercial/Voiceover

VISITING ARTIST
Master Class in Vocal Performance
LAGUARDIA HIGH SCHOOL OF MUSIC & ART
AND PERFORMING ARTS

GUEST ARTIST
Master Class in Microphone and Recording Technique for Vocal Majors


"MY LIFELONG JOURNEY IN THE PERFORMING ARTS"
With warmth, honesty and humor, Ivy Austin recounts the ups and downs of her long, and eclectic career in the performing arts. "Born in a trunk," Ivy spent much of her childhood on the road with her parents, traveling with touring companies of Broadway shows. Hear a unique tale that begins aboard steamer trains, and leads to Ivy's enchantment with the theatre and her dream to someday star in a Broadway show. After years of training, auditioning, and "pounding the pavement," hers was a childhood dream that became reality. However, where there is the thrill of success, there is also the heartbreak of disappointment. Ivy has experienced it all, from critics' raves and pans, to stepping into a show which she had never seen, on one day's notice. As they say, the show must go on! The mother of two sons, she also addresses the challenges of raising a family in this business, and the choices she is proud to have made.
Ivy has a firm belief that young people must continue their higher education and explore different areas, even when they plan to pursue careers in the arts. Everything you study, and all that you do in life, informs your work as an artist. Continue to learn and push those boundaries. Be the best YOU that you can be!
Listeners are encouraged to ask questions about her journey as an actor, singer, voiceover artist, teacher, student, producer, lyricist, and most challenging of all, parent. Tweens and teens with stars in their eyes, B.F.A. candidates champing at the bit to begin theatrical careers, or members of any arts organization, everyone can benefit from this fun and relaxed "Real Life" talk. Please contact me at helloivyaustin@gmail.com. Fees available available upon request.

IVY AUSTIN'S MASTER CLASS IN VOCAL PERFORMANCE
Teachers, have you ever wondered whether your vocal students really understand what it is they are singing about? How much do they know about the character that sings this song, and why are they singing it? Have they considered singing the song in a more flattering key? Very often, young singers get so caught up with perfecting their vocal technique, that they do not pay attention to the song itself, or the lyrics they are singing. A great vocal performance does not happen by technique alone! There are a variety of things that contribute to a thrilling performance, and each one must be explored. In my Master Class, we will discuss all the layers that go into building a student's performance. A song may be executed many different ways, so let us take a look at all the options, and make choices that sound, and feel right for each individual.
In a friendly, nonjudgmental environment, each student will come prepared to perform a piece from the musical theatre, or our American Songbook. We will begin our work with the lyrics. Each person will learn to examine his or her own piece until it makes sense to them on a personal level. Even the broadest comedy song must have a real connection. I will guide the students through finding emotional connections to a song. Once students understand how to keep the song honest, we will build on the performance, adding layers, which may include character, age, time, place, movement, etc.
As a mother of two teenagers, I pride myself on my ability to speak to young people. Adolescence is a very sensitive time. My aim in teaching in this class is of course to inform, but more so to nurture each student's unique talents, and bring out the best in each one. This class will benefit students of all vocal styles including, Broadway, Opera, Jazz, and Pop. Please contact helloivyaustin@gmail.com. Fees available upon request.